Learn to Skate USA
Learn to Skate USA offers programs for skaters of all ages and abilities.
The lessons learned in ice skating are also lessons in life. The confidence and joy you see your kids gain today will become the greatness your kids achieve in the world tomorrow.
The AFSC is proud to offer the Learn to Skate USA program from USFS. With Learn to Skate USA there are many class options available:
Snowplow Sam (Preschool)
Basic Skills
Hockey
Free Skate
Adult
The AFSC normally offers three 8 week Learn to Skate USA group lesson sessions a year: Fall (Mid-October to December), Winter (January to February), and Summer (Mid-June to August). Group lessons are the most perfect and easiest way to try out skating!
Private lessons are also available if you feel your skater needs extra one on one time to polish elements. The skating club provides a list of coaching staff available for private lessons. The skater is responsible for contracting private ice time with the AFSC and contracting lesson time with a coach.
Parent Guide Booklets from U.S. Figure Skating: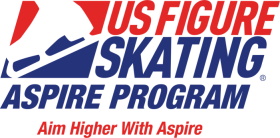 Aspire Program from U.S. Figure Skating
The Aspire program marks the transition from skater to figure skater and teaches athletes of all ages the skills they need to make the most out of their figure skating journey. The AFSC incorporates the Aspire program into our group lesson structure for those skaters in the higher Basic Skills levels and Free Skate levels. Skaters will receive more lesson time than at the lower LTS levels and in turn will learn proper skill development and training techniques while sampling different skating opportunities and fine-tuning their fundamental skating skills.
Skate Rentals
We do have some skate rentals available and can help fit skaters. Please contact a board member for more details on our rental program. We only have a limited number of skates available so contact us early if you are interested.
Weather Related Announcements
Generally the AFSC does not cancel ice due to the weather. However, in the event that the ice times are cancelled due to the weather, AFSC will send out email notification via the AFSC Mailing List with the details of the cancellation, and if possible local media outlets will be notified as well.