Learn to Skate USA
Learn to Skate USA offers programs for skaters of all ages and abilities. The lessons learned in ice skating are also lessons in life. The confidence and joy you see your kids gain today will become the greatness your kids achieve in the world tomorrow.
The AFSC is proud to offer the Learn to Skate USA programing. The Learn to Skate (LTS) curriculum we offer includes:
Basic & Free Skate
Snowplow Sam (Preschool)
Adult
Hockey Skills
Lesson structure starts with the Basic levels (Basic 1-6) and advances through to the Free Skate levels (PreFreeskate, Free Skate 1-6) for kids in K-12. If you are new to skating, enroll in Basic 1 as we group this level by age and will move a skater up in levels as they progress in a session. If you have previous skating experience, reach out to our Learn to Skate Director for advice on what level to register for. We also offer Snowplow Sam lessons for preschool aged children (4-5yrs old), Adult lessons for adult skaters of all ages and skating experience, and Hockey Skills lessons for hockey skaters learning to polish their skating skills and/or to become more proficient and agile on the ice. Aspire curriculum (Basic 5-6, PreFreeskate, Free Skate 1-6) takes your skating to the next level with more instruction in addition to the core LTS lessons — scroll down to find out more about the Aspire program!
The AFSC normally offers three 8 week Learn to Skate (LTS) group lesson sessions a year: Fall (Mid-October to December), Winter (January to February), and Summer (Mid-June to August). Group lessons are the most perfect and easiest way to try out skating! Winter lessons will start the week of January 7, 2024. Most levels will have lessons on Monday evenings (starting January 8th). CLICK here to go to our News post with detailed information for Winter 2024
Private lessons are also available if you feel your skater needs extra one on one time to polish elements. The skating club provides a list of coaching staff available for private lessons. The skater is responsible for contracting private ice time with the AFSC and contracting lesson time with a coach. Find more information our on our Private Ice page.
Parent Guide Booklets from U.S. Figure Skating: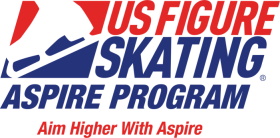 Aspire Program from U.S. Figure Skating
The Aspire Program marks the transition from skater to figure skater and teaches athletes of all ages the skills they need to make the most out of their figure skating journey. The AFSC incorporates the Aspire program into our LTS group lesson structure for those skaters in the higher Basic Skills levels and Free Skate levels (Basic 5-6, PreFreeskate, Free Skate 1-6). Skaters will receive more lesson time than at the lower LTS levels and in turn will learn proper skill development and training techniques while sampling different skating opportunities and fine-tuning their fundamental skating skills.
Skate Rentals
We do have some skate rentals available and can help fit skaters. Please contact a board member for more details on our rental program. We only have a limited number of skates available so contact us early if you are interested.
Weather Related Announcements
Generally the AFSC does not cancel ice due to the weather. However, in the event that the ice times are cancelled due to the weather, AFSC will send out notification through the GoMotion app with the details of the cancellation, and if possible local media outlets will be notified as well.