Thank you to all who joined us for our December 15, 2022 Virtual USFS Test Session! Any information about upcoming testing opportunities with the Alexandria FSC will be posted here. In 2022 we hosted virtual test sessions the beginning of August and December.
If you are not a member of Alexandria FSC, you will need to complete a permission to test form and email it to info@alexandriafigureskating.org prior to the in person test date (those submitting a test please provide by the registration deadline). A copy of the US Figure Skating Permission to test form can be found here :
USFS Testing and Private Coaching
Skaters finishing the Learn to Skate USA Levels have the option to test into higher levels with US Figure Skating. Normally at this point in the skater's career they have contracted a private lesson coach to work on these higher level tests. The skating club provides a list of coaching staff available for private lessons. The skater is responsible for contracting private ice time with the AFSC and contracting lesson time with a coach.
The decision to pursue the US Figure Skating tests is decided between coaches, parents and skaters.  These tests are before official US Figure Skating judges and are held at any club offering a test session (either in person or as a virtual test). As these locations do change, please talk with your coach for available upcoming test sessions.
The testing levels are as follows (Note a Skating Skills test must be completed before the associated Singles test) (Test names updated July 1, 2023. Moves in the Field is now Skating Skills and Free Skate now Singles):
USFS Singles and Skating Skills Tests
Pre-Preliminary
Preliminary
Pre-Bronze
Bronze
Pre-Silver
Silver
Pre-Gold
Gold
Adult Tests
PreBronze
Bronze
Silver
Gold
Intermediate
Novice
Junior
Senior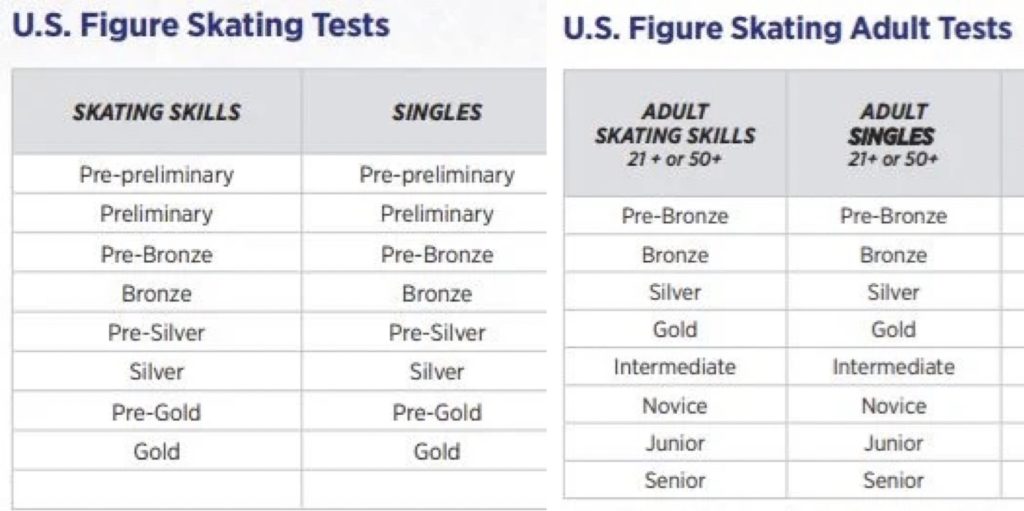 Testing through US Figure Skating is also available for Pattern Dance, Free Dance, Pairs, Adaptive.