We encourage you to have an experienced skating club board member or coach measure your skater at the rink and provide you with a sheet of your skater's measurements before registering online.
If you prefer to measure your own child, here are the measurements (in inches) that we require: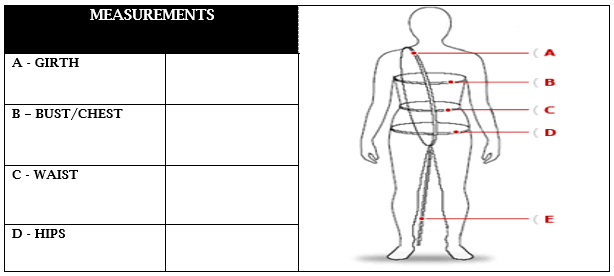 A = Girth
B = Bust/Chest
C = Waist
D = Hips
To get accurate measurements, be sure to measure over form fitting clothing and make sure the measuring tape is snug, but not tight, with 1 or 2 side-by-side fingers room underneath the tape. We want your child to be comfortable in their costumes!
We also require the size of shirt and pants/jeans that your skater normally wears. Please provide us with sizes using the Child XS-XL through Adult XS-XL scale. This provides us with an idea of your skater's general size in case there is an issue with the measurements taken.
Let us know if you have any questions about measuring for costumes.